CTMI-eVault is a hybrid blockchain that offers double-encrypted secure file uploads with auto-notarizing 'hash' digital receipts. A great tool for Intellectual Property Protection...Trade Documentation ...Anti-Piracy Support... Joint-Venture & Investor Negotiations... University & Industry Research & Development Collaboration...Request-for-Proposal (RFP) Submissions, Business Incubation & Commercialization and more...

>>CTMI-eVault / University demo (pdf)

Trust and confidence always have been among the main challenges in any business relationship. That holds especially true today with business opportunities global by nature and beyond the companies' local comfort zone and direct, personal contact. And that holds even more true when negotiations are made through electronic means where tracking and authentication become questionable.

Chambers of Commerce, with a history dating back to at least the year 1599 with Marseilles, have a long track record in helping to create trust and confidence about business information from local to international markets. The Chamber-eVault tool was established as a digital online service by the World Chambers Network (WCN) in 2005.

Now, the new CTMI-eVault groups cover various types of industry sectors beyond the chamber-specific original version. CTMI-eVault helps by keeping files (i.e. those stored on a cell phone or tablet) safe from prying eyes, for example during travel, and by protecting Intellectual Property... with secure 'anywhere' access and a set of auto-notarized digital receipts of submissions held by the trusted, neutral WCN. CTMI-eVault has select elements of blockchain technologies in some applications and a CTMI-eVault version also lends itself for corporate anti-piracy uses.

CTMI-eVault subsidiaries cover all types of businesses and organizations (some screenshot samples below) and CTMI-eVault subsidiaries are set up to allow a given amount of industry partner ownership participation. Most CTMI-eVaults are located at our www.trustedtrader.global sites. Please contact us to learn more.

Joint Venture Contact room CTMI-eVault
(per JV project with multiple users per account)

University IP / Commercialization CTMI-eVault


Marine & Travel CTMI-eVault


RFP-Request for Proposal CTMI-eVault
(use for your individual RFP submission for peace of mind; bulk app for organizations also available)

Shipping & Trucking CTMI-eVault


Real Estate Transactions CTMI-eVault
(for commercial and residential real estate)

Arts / authentication CTMI-eVault


Local Markets CTMI-eVault
(included with Local Food Market business clusters and listings)

Innovation Clusters CTMI-eVault
(for specific innovation business clusters by region or industry type, incubation hubs)

Fairs & Exhibitions CTMI-eVault
(for major Fairs and Exhibitions organizers; bundled with ChamberTrust and business hub listing services)

FX Transactions CTMI-eVault
(for banking transfers in foreign exchange)

Corporate Anti-Piracy CTMI-eVault
(specialized for corporations to authenticate their products, serial numbers etc...)



Select CTMI-eVault subsidiaries screen shots: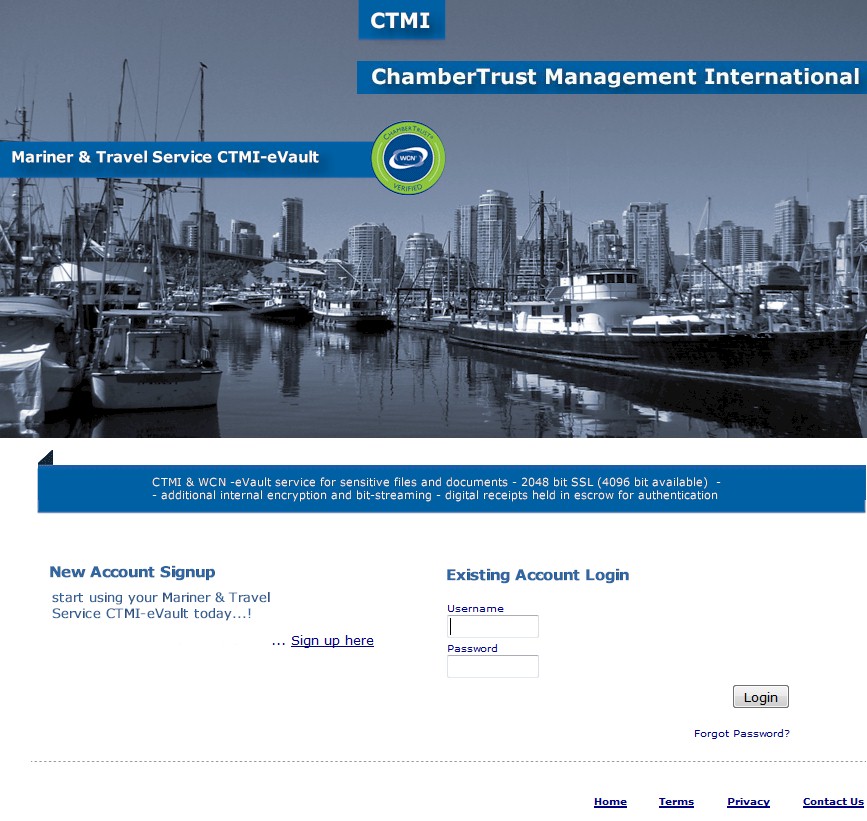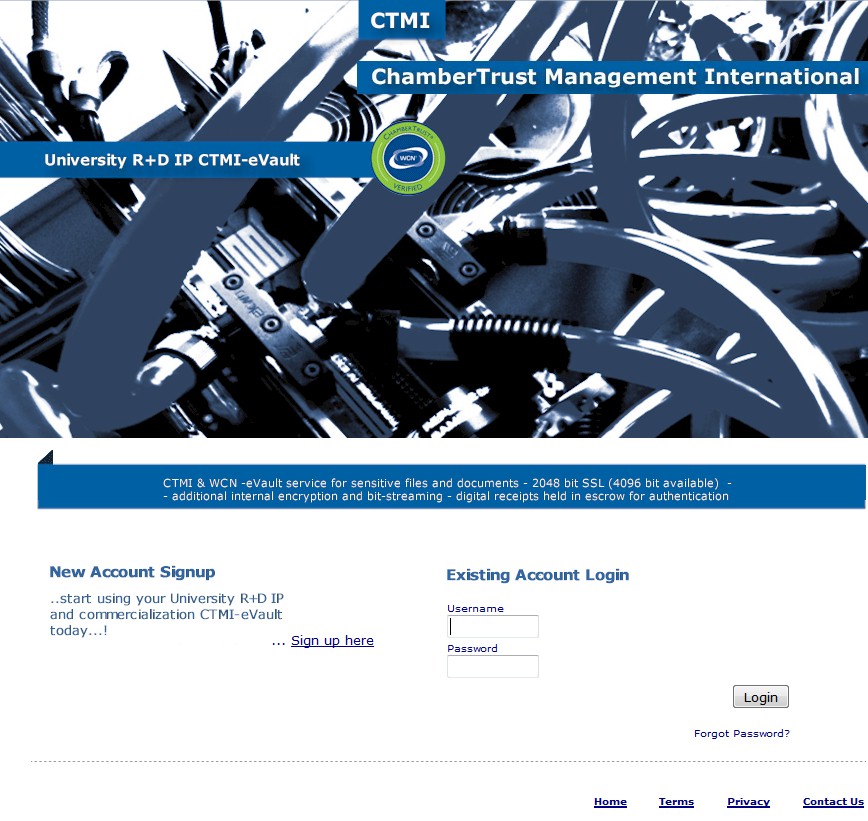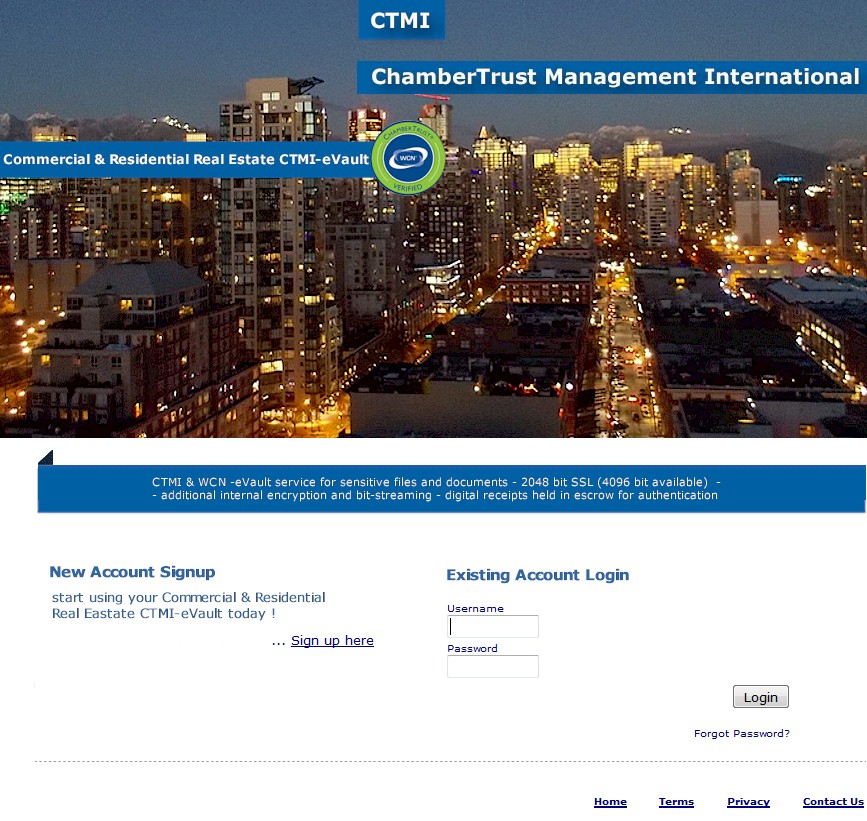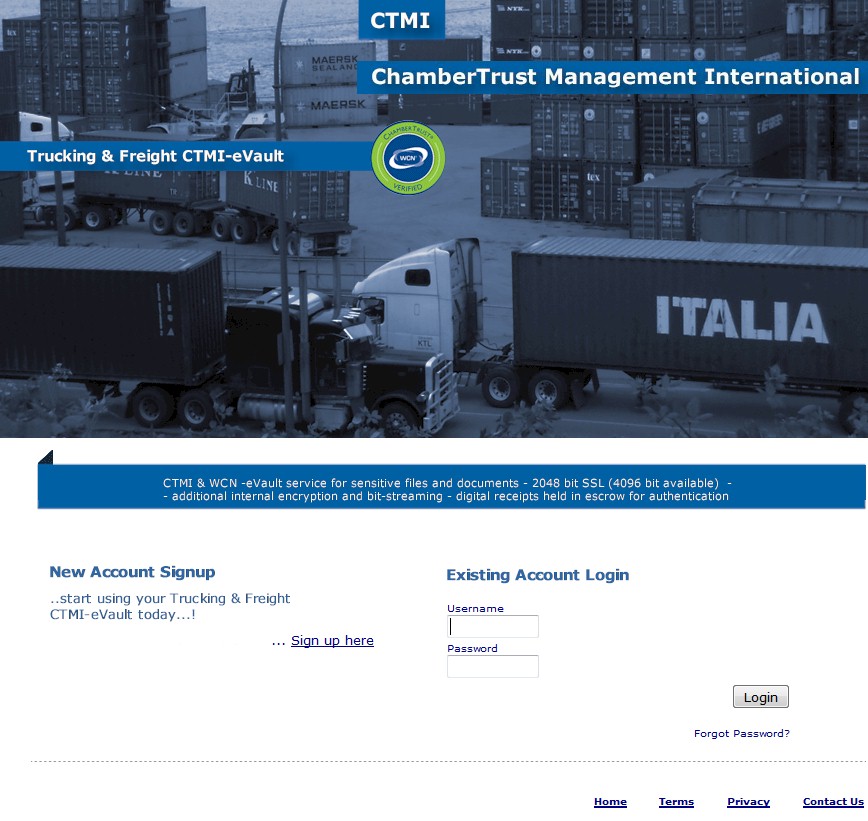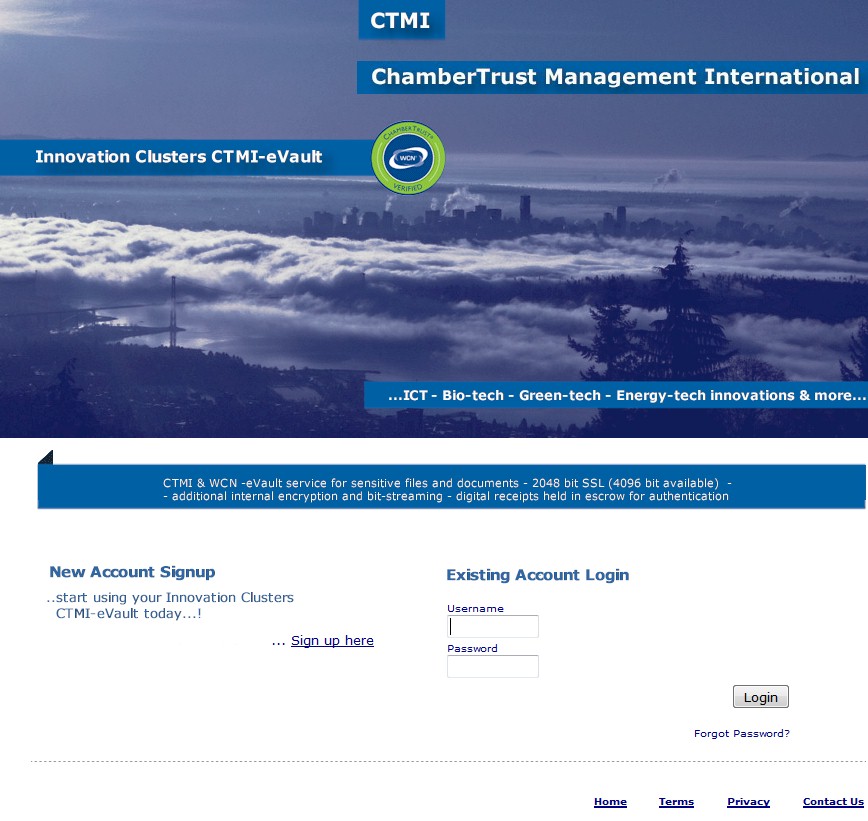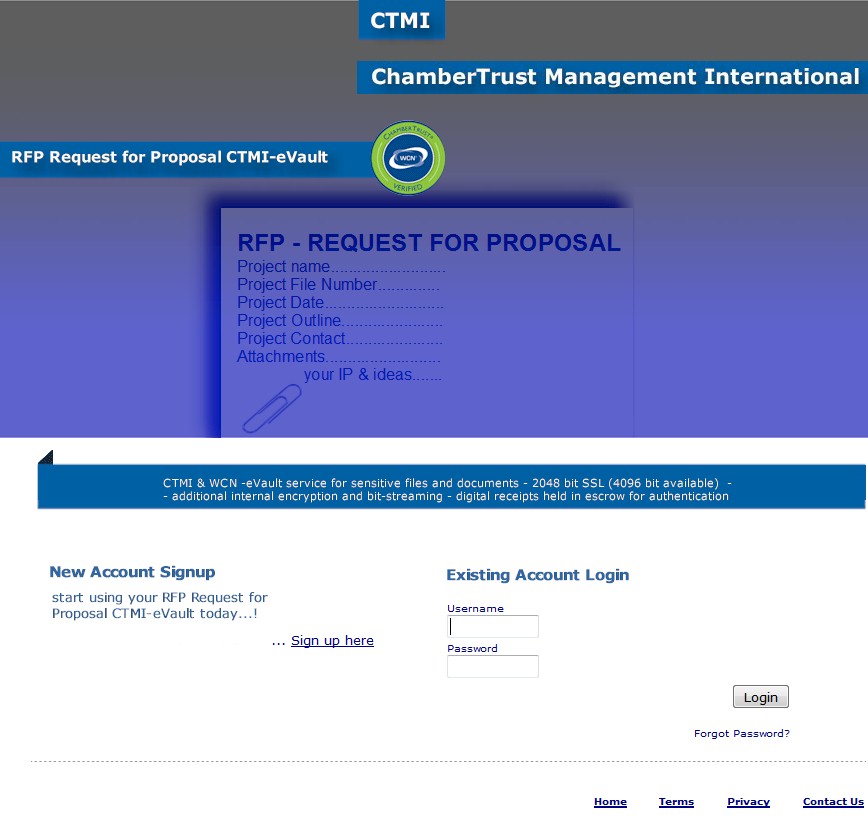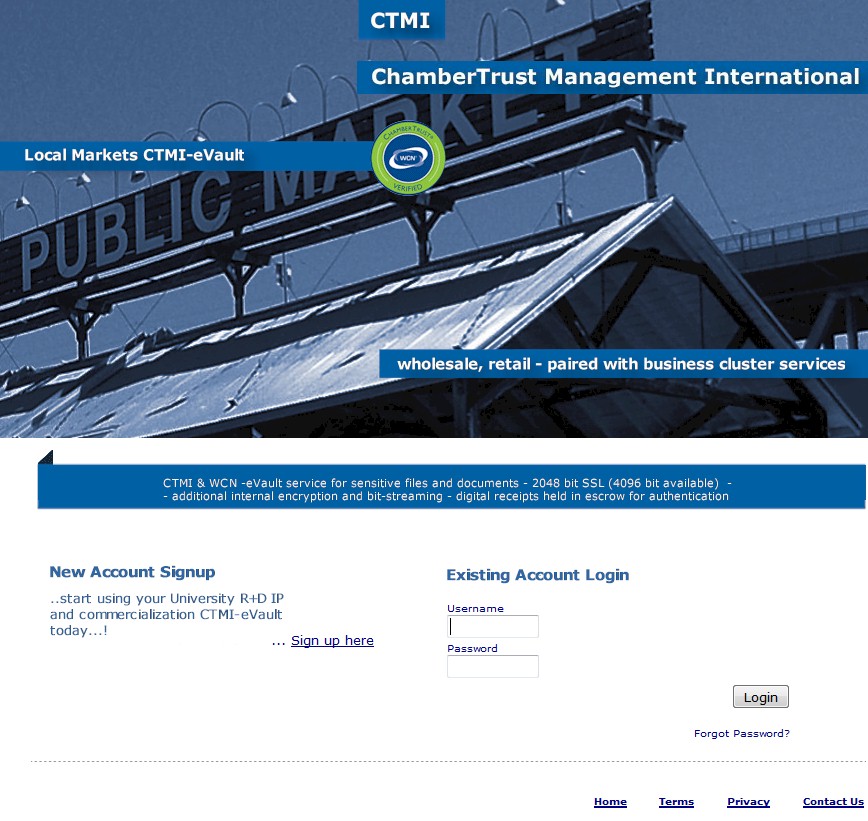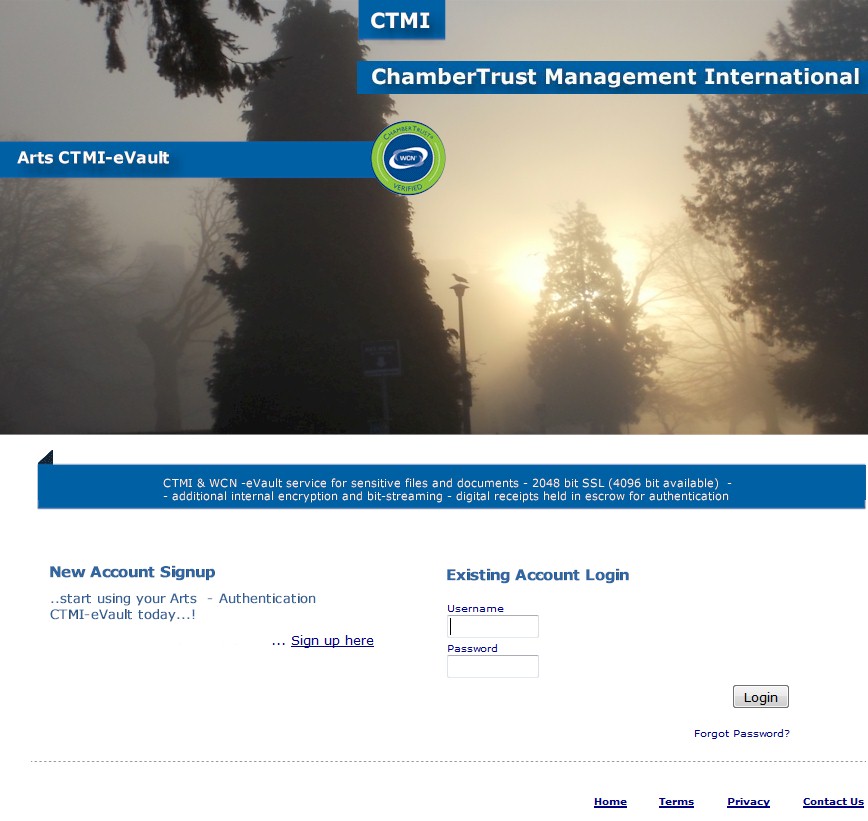 ---